Croatian Ferries
Local (domestic) ferries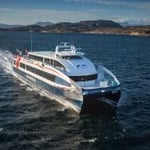 Ferry is a great way to travel around the Croatian Islands. We have listed some local ferry information here for you, but please also check the ferry sites directly as we provide basic information only and they might have changes at the last minute. We cannot book any of these domestic ferry lines for you unfortunately, though ferry tickets (plus delivery to you at your hotel when we pick you up for the ferry) are included in our Independent Island Hopper Tours!
Please research the ferries very carefully yourself to ensure you can get between your locations on the day and time that you need. We don't list every ferry here on our website, just the most commonly used by our clients. Please check the ferry websites yourself for any extra services and contact those companies directly from their site with any queries about domestic ferries such as changed timetables or price lists.
Domestic ferries must be booked online directly by the client using their credit card; unless you wish to book one of our fabulous Island Hopping Package Tours, which you can find on our website here. Our Island Hoppers include all accommodation, transfers and ferry tickets with everything organised for you and you just relax and enjoy your holiday.

Otherwise, please book the ferry directly yourself using links below, it is a simple process. Please use the "Search journey schedule and buy tickets online" section for domestic ferry bookings on Jadrolinija. If you do not see the ferry available in that search selection then you must purchase tickets on the day in Croatia (eg, car ferries or small local ferries like GV or Blue Line), or there is no ferry on that day. Please check the timetables carefully. If there is no ferry on that day then please contact Jadrolinija or KriloJet (Kapetan Luka) directly for all ferry timetable enquiries through their website.
Reservations on car ferries and small local boat lines are not possible. You must purchase tickets on the spot on the day for all domestic car ferries. We cannot book these for you. First come, first served on those ones, so please make sure you arrive early.
Sailing Schedule for local lines on Jadrolinija 2018: http://www.jadrolinija.hr/en/sailing-schedule/local-lines-2018
Jadrolinija have ferries between Split and Hvar, Hvar and Korcula, Split and Vis, Split and Brac, etc. and they now also have a ferry from Split to Dubrovnik (9811S) in high season only 09June-18September (one ferry per day).
Jadrolinija Website: http://www.jadrolinija.hr/en/ferry-croatia
Ferry routes by Jadrolinija can have names that are confusing. Please check a map before booking your ferry so you know which port you are going to.
Hvar Town is listed as 'Hvar', Stari Grad and Jelsa are on a different part of the island of Hvar, they are not in the town of Hvar.
Korcula Town is listed as 'Korcula'. Vela Luka is on a different part of the island of Korcula and is not near the town of Korcula.
Please check the Jadrolinija terms and conditions before booking.
Jadrolinija BOOK NOW: http://www.jadrolinija.hr/en/ferry-croatia
Select the departure port, arrival port and use the calendar to select your date. If there are no ferries on that route on that day nothing will show up.
KriloJet (Kapetan Luka) ferry also has a ferry that goes all the way between Split and Dubrovnik. There is only one ferry per day that does this route, so you must buy your tickets early to ensure you can get onboard. 23May-09Oct there are daily ferries, outside those dates ferries only run on certain days of the week.
Kapetan Luka (KriloJet) Website: https://www.krilo.hr/en/
Krilo timetables: https://www.krilo.hr/en/sailing-schedule/
Please check the KriloJet Kapetan Luka terms and conditions before booking.
Krilo BOOK NOW: http://krilo.aktiva-info.hr/eng/frmPregledSlobodnoEng.aspx
Click on the months on either side (highlighted here in yellow) until you get to the month you want, then select starting point, destination point, 'check' etc and continue until you are booked.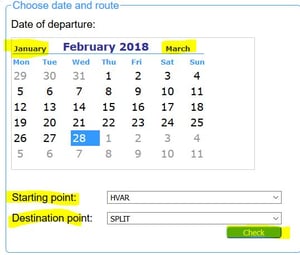 Bura Line ferry goes between Split and Trogir https://buraline.com/en/boat-state-line/
G&V Line ferry goes between Dubrovnik and Korcula (July/August only) http://www.gv-line.hr/english
Route: Dubrovnik – Luka Šipanska – Sobra (Mljet) – Polače (Mljet) – Korčula – Ubli (Lastovo)
Mia Line ferry is in Zadar http://www.miatours.hr/
We have downloaded a selection of the ferry timetables most used by our clients; click here to access them: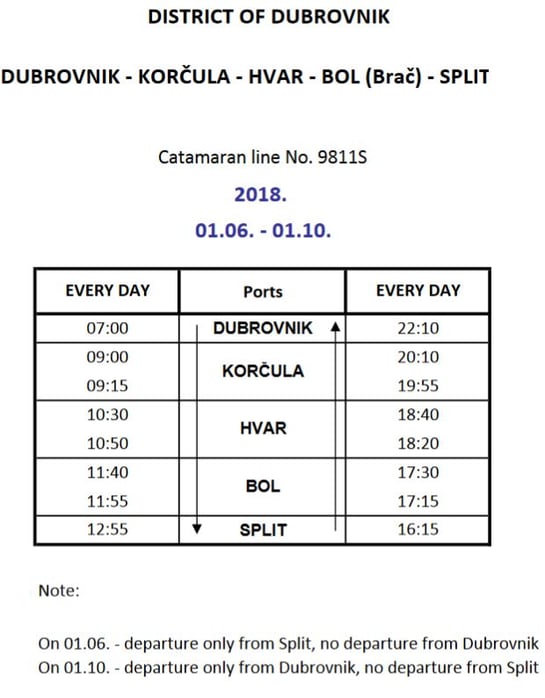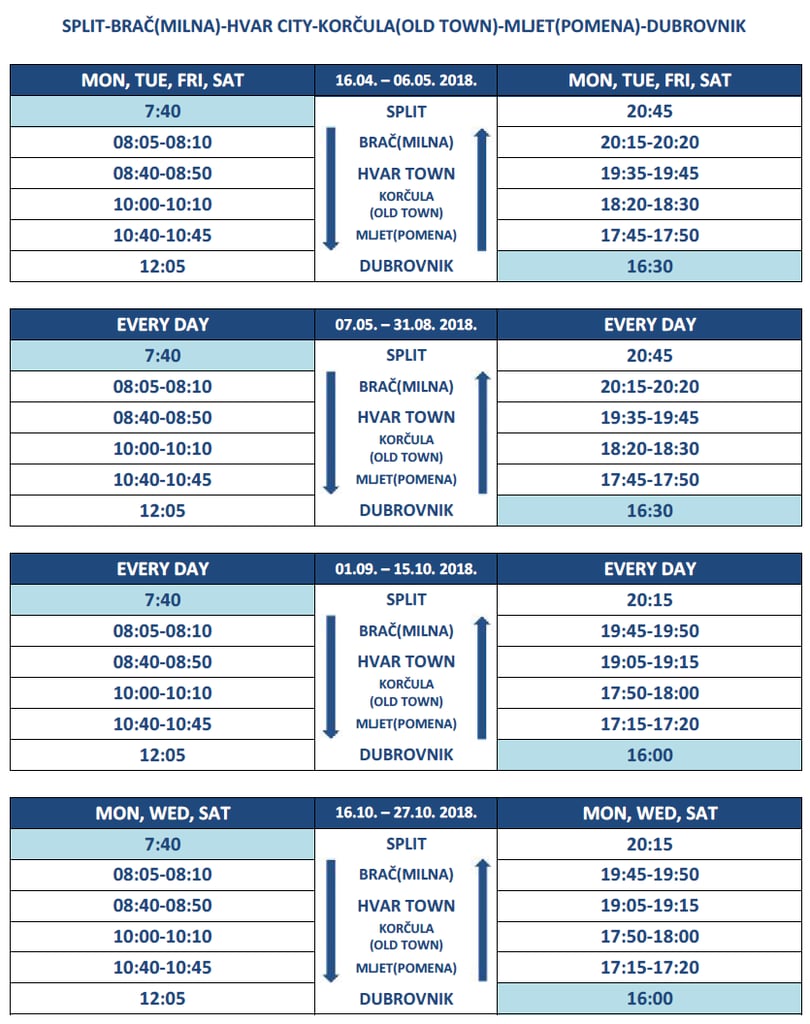 ---
International ferries (to and from Italy)
Now you can book all your international ferries easily in one place with Direct Ferries!
Book online instantly with Direct Ferries and see all the different international ferry lines in one place.
Or you can go to the direct websites and book easily yourself online instantly:
Major international routes (you can book any of them on Direct Ferries above):
1. Split to Ancona (or return)
2. Dubrovnik to Bari (or return)
3. Istria (Rovinj, Pula, Porec, Umag, Rabac, Piran) and Venice connections (map below) – both Venezia Line and Adriatic Line
There are no ferries from Venice to Split or Venice to Dubrovnik, and there are no ferries to/from Rabac anymore either.